International Embedded Systems Symposium 2005 - Call for Papers
As almost no other technology, mechatronics is an essential element of many innovations in automotive engineering. New functions and improvements of already existing functions, as well as the compliance with traffic regulations and customer requirements, have only become possible by the increasing use of mechatronic systems, especially in the fields of driving, safety, reliability, and functionality. Along with the functionalities that increase in number and have to cooperate, the complexity of the entire system will increase.'
Synergy effects resulting from distributed application functionalities via several electronic control devices, exchanging information through the network bring about more complex system architectures with many different sub-networks, operating with different velocities and different protocol implementations.
To manage the increasing complexity of these systems a deterministic behaviour of the control units and the communication network must be provided for, in particular when dealing with a distributed functionality or redundant realization.
Contributions and participants from industry and academics on the below mentioned topics (not restricted to) are welcome to take active part in this symposium.
The main goal of this symposium is to present, to exchange, and to discuss the actual status of the work, actual research results, and tendencies in the scope of embedded system applied to transport applications.
Topics: Topics include, but are not restricted to the following:
Specification and modeling of complex embedded systems
Design methodology for automotive embedded systems
Simulation and verification (SIL and HIL) of embedded systems
New technologies for automotive applications
HW/SW co-design for automotive applications
Re-configurable architectures and applications on the automotive field
Software synthesis for embedded systems
Distributed and Modular controller architectures
Network and communication systems
Dependability and fault tolerance of distributed embedded systems
Power management for embedded systems
Case studies of embedded systems
March 1, 2005
Deadline Extension:
March 15, 2005
Submissions due
April 20, 2005
Extended to:
April 28, 2005
Notification of acceptance
Mai 15, 2005
Final papers
A submission should consist of:
a cover page including:

most appropriate topic,
title of the paper,
names and affiliations of authors,
contact author's name, address,
phone number, fax number, and
email address

the paper (up to 10 pages in 11 point or larger) or an abstract (3 - 5 pages), which should provide a summary of the main results and their details to allow the program committee to assess their merits and significance, including references and comparisons.
The contribution must be unpublished and not submitted for publication elsewhere, including journals and the proceedings of other symposia or workshops. One author of each accepted paper should present it at the conference.
The Proceedings will be published by Springer, the official publisher of IFIP. Full details on how to format your paper can be found at at the IESS 2005 web site www.iess.org or the web site of the conference publisher, Springer: www.wkap.com/ifip/styles/.
Download the Copyright form and fax to Achim Rettberg, Fax: +49 (5251) 606066.
You can submit Postscript, PDF, or MS Word files to: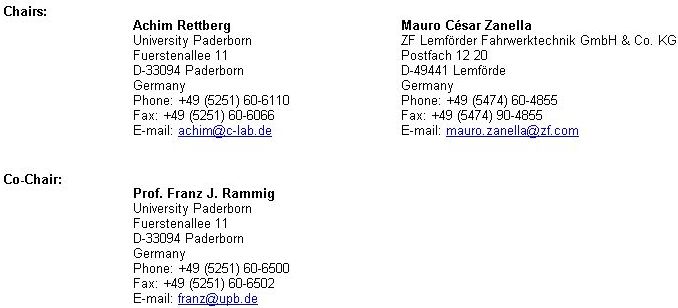 Jürgen Becker – University Karlsruhe, Germany
Michael Becker – Dr. Ing. h.c. F. Porsche, Germany
Brandon Blodget – Xilinx Research Labs, USA
Rainer Dömer – University of Irvine, USA
Nikil Dutt – University of Irvine, USA
Rolf Ernst – Technical University Braunschweig, Germany
Uwe Honekamp – Vector Informatik, Germany
Ricardo Jacobi – UNB, Brazil
Kane Kim – University of Irvine, USA
Bernd Kleinjohann – C-LAB, Germany
Hermann Kopetz – Technical University Vienna, Austria
Horst Krimmel – ZF Friedrichshafen, Germany
Jean-Claude Laprie – LAAS, France
Thomas Lehmann – Philips, Germany
Joachim Lückel – University Paderborn, Germany
Carlos Pereira – UFRGS, Brazil
Franz Rammig – University Paderborn, Germany
Achim Rettberg – C-LAB, Germany
Stefan Schimpf – Robert Bosch Ltda., Brazil
Joachim Stroop – dSPACE, Germany
Flavio R. Wagner – UFRGS, Brazil
Mauro Zanella – ZF Lemförder Fahrwerktechnik, Germany

Advanced symposium registration must be made not later than June 30, 2005.
Advanced Registration: US $ 300,00
The deadline for advanced registration is June 30, 2005.
Late Registration: US $ 340,00
Any registration received after June 30, 2005.
Please register here: Registration closed!
(click on the graphic)

Note: You can pay by credit card or bank transfer. If you have no account by PayPal you must create a new account. Then you can select the payment method.



(The fees are in US dollars. For currency conversion check http://www.oanda.com)
Registration fees include admission to the symposium, proceedings and the social event.
Location and Travel Information:
The conference will be held in Manaus (Brazil) at the Ariau Amazon Towers Hotel, August 15-17, 2005.
Important recommendation: Please book your flight as soon as possible, because August is high-season.
Transport between:

Manaus Airport to Ariau Amazon Towers Hotel:

Please try to reserve your flight to arrive later on Sunday (14.08.05) in Manaus. Varig and TAM machines arrive in Manaus about 1:00 pm
From the airport we will take a bus to the peer of the Hotel Tropical in Manaus (Hotel shuttle bus)
After then you will travel by boat approx. 2:30 hours to the Ariau Towers Hotel
If you are planning to go before/later to Manaus, then please contact us for organization purposes

Ariau Amazon Towers to Manaus:

The check-out will be done before the beginning of the sessions on Wednesday (17.08.05)
After the lunch we will return to Manaus by boat
We are planning some activity in Manaus at the evening
You can plan to stay in the Hotel Tropical until Thursday for your next flight

Hotel Ariau Towers

Reservations and payments will be done via the travel agency Rio Amazon Tours, for information see below
The reservation shall be done by fax
Hotel reservations shall be done until June 17, 2005
Hotel price (including breakfast, lunch, and dinner - not including beverages) from August 14 to August 17, 2005

single room: US $ 590,00
double or triple room: US $ 400,00 per person

All activities supported by our program in the Hotel is included

Hotel Tropical in Manaus

Hotel price (including breakfast)

single room: US $ 110,00
double room: US $ 126,00
triple room: US $ 165,00
The organization committee recommends the travel agency Rio Amazon Tours for flight tickets and hotel reservations. They are the official representative agency of the conference Hotel Ariau Amazon Towers in Germany, and they have experience with flights, transport, and Hotels inside Brazil. They will give you all necessary support for a nice stay in Brazil.
Please donwload the Hotel reservation form and fax it to:
Rio Amazon Tours
Ms Cristina Canelhas
Giessener Str. 18
60435 Frankfurt/Main
Germany
Tel: +49 69 59793415
Fax: +49 69 59794899
Email: cristina@rioamazontours.com
Check if you need a VISA for Brazil. If you need an invitation letter for your VISA please contact us.
Please check the following page for vaccinations: http://www.ariautowers.com/amazon/vaccines.html
| | | |
| --- | --- | --- |
| | | University of Paderborn |
| Ariau Amazon Towers Hotel | | |
| | EBV Elektronik GmbH & Co. KG | Xilinx, Inc. |
| | | |
| | Freescale Semiconductor, Inc. | |
Copyright: webmaster@iess.org. Last update: 18. July 2005